---
About the 2016 Music Fest 11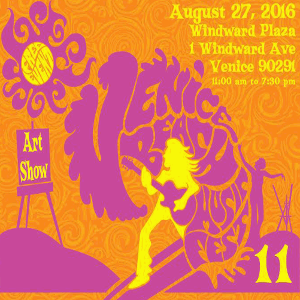 Free Music and Arts Festival:
Venice Beach Music Fest 11
Saturday, August 27, 2016
Full day of music, dance, art, and literature, featuring top-tier local and international talent. Headlined by founding member of the Chambers Brothers WILLIE CHAMBERS and former member of Woodstock legends Country Joe and The Fish BARRY 'THE FISH' MELTON AND FRIENDS
VENICE, CALIFORNIA - The annual Venice Beach Music Fest music and arts festival celebrates eleven years of totally free music, dance, art, and literature at the beach on Saturday, August 27, 2016, from 11:00 A.M. to 7:30 P.M. in Windward Plaza Park (1 Windward Avenue, between the boardwalk and the bike trail). The festival, sister to the Venice Spring Fling, is and always has been free and open to the public, made possible by local and national businesses.
The full day of entertainment features a multi-genre array of seasoned and talented performers. Venice Beach Music Fest 11 is thrilled to welcome headliners Willie Chambers, a founding member of the legendary rock/soul group The Chambers Brothers ('Time Has Come Today'), and Barry 'The Fish' Melton, of Country Joe and the Fish fame (they performed the 'Feel-Like-I'm Fixin'-to-Die-Rag' at Woodstock). Barry Melton will be accompanied by an all-star band composed of Peter Albin, Roy Blumenfeld, Lowell 'Banana' Levinger, and Greg Douglass (Steve Miller Band). The festival also features performances by dance troupe Ya Harissa Bellydance Theater, local ska/punk heroes Meet Me at the Pub, Southern California's premiere Grateful Dead cover band Cubensis, poet and live painter Ann Cohen, reggae band Jah Faith and the Royal Lineage, and folk troubadour James Booth. Drum and dance ensembles Samba Da Mudança (Samba for Change) will perform a show-opening parade down Ocean Front Walk, arriving at the festival site at 11 A.M.
Venice Beach Music Fest 11 is proud to support the arts by hosting an arts and literature show that is free for selected independent artists. This year's lineup of visual artists showing their works include both local and internationally recognized artists Ra Ra Superstar, Luciano Mota, Elisa Garcia, Wing Yee-Lee, Jediloves, Audrey McNamara, Dunkees, Vanessa Y. Gonzalez, Debbie Pauketat, and more TBA. Other special features of this year's celebration include kombucha tea sampling by Townshend's Brew Dr. Kombucha and hoops for play and sale by Eclectic Hoops. The Venice Electric Light Parade, a group of bicycle enthusiasts who promote safe cycling at night through an artistic display of LED lights, will gather at the site at 7:30 P.M. for a night ride.
This free-to-the-public festival is provided to the community by the support and sponsorship of many local and national business, including The Sidewalk Cafe, Venice Beach Suites & Hotel, Venice Boardwalk Association, Volcano Tea House, Royal Gold Potting Soil, Maui and Sons MDR, Maui and Sons Venice Beach, Bartels' Harley-Davidson, Dr. Bronner's, Fresh Brothers, Townshend's Brew Dr. Kombucha, Wyndham Vacation Ownership, Animal House, and Whole Foods Venice.
Producer Milton Rosenberg, in his eleventh year of free festival production in the community, notes that 'this festival continues its tradition of preserving the essential art forms in our community: music, dance, literature, visual arts, and street performance.' Along with the Venice Spring Fling, the Venice Beach Music Fest seeks to preserve town founder Abbot Kinney's original intention for Venice of America to be a place to experience arts and entertainment by the sea. Previous festivals have resulted in incredible live performances by Chuck Dukowski (Black Flag); John Norwood Fisher, Angelo Moore, and Walter Kibby (Fishbone); Tracii Guns (L.A. Guns); Matt Abts (Gov't Mule); and Michael Hinton (Merl Saunders and the Rainforest Band).
Visit www.VeniceBeachMusicFest.com for additional information, and connect with the community at www.Facebook.com/VeniceBeachMusicFest . This event is endorsed by the Venice Chamber of Commerce.
Watch The Venice Beach Music Fest at Face Book.
ARTISTS